Our office is located in Stony Creek, Virginia. We currently own a 1997 Freightliner Classic which we have leased to TMX LOGISTICS in Chesapeake,Va.
Patricia and I have been involved in the trucking business over 20 years. We have owned trucks for the last 7 of them.
We also own a small family farm here in Stony Creek where we reside with our daughter, Abby and a barnyard full of critters.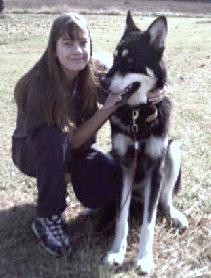 Our daughter, Abby and our wolf, Lakota.